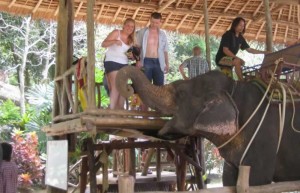 Elephant Trekking Phuket with Easy Day Phuket Tours – Daily Elephant Trekking trips through the Jungle in the south of Phuket Island.
With the 30 minutes track will enjoy view over Phuket West Coast. Phuket Elephant trekking with best views.
Daily Elephant Trekking Tours.
First Trekking start 09:00.
Last Trekking around 16:00.
30 min Trekking & Half Day Programs
Jungle & Seaview on the back of well treated Elephants.
Do not like to ride? Visit Elephant Sanctuary Phuket !
Elephant Trekking
30 minutes Elephant Trekking through the jungle in Kata Hills. Enjoy a ride on the back of one of these gentle giants
Adult 1,400 | Child (4-11 Years) 900
Above quoted prices are in Thai Baht and per person for 30 minutes Trekking and include transfers from Phuket's main tourist areas.
Half Day Safari Package
Phuket Elephant Safari Package – 2 times a day at 09:00 & 14:00 you can join-in into  a Half Day Elephant Safari including 30 minutes trekking and education about Thailands Elephants.
Adult 2,400 | Child (4-11 Years) 1,500
Phuket Elephant Package Includes:
30 minutes Elephant Trekking.
Visit & Feeding a Baby Elephant.
Introduction about the history of Elephants in Thailand.
Rubber Tapping demonstration.
Insight into Coconut Oil production.
Thai Food Cooking demonstration.
A Thai Food Buffet.
2-way Transfers from Phuket main Tourist areas. (*See note below)
Transfers: Extra Charges apply for transfers from Siray, Maikao, Ao Por, Layan, Naithon, Naiyang, Nakalay and Phuket Airport Area. Extra charge 200 THB /Person (min. 2). Single person surcharge 500 THB
Phuket Elephant Image Gallery
Alternative Elephant Trekking Tours
If you like spend more time on the back of an Elephant and like to see places like Khao Sok area or like Elephant Bathing check out the following Phuket Tours.
Daily tours into Khao Sok National Park north of Phuket Island. Day Tours and Overnight Tours combining canoeing, elephant trekking and jungle trekking through tropical rain forest.
Price in Thai Baht per person starting from: 3,300
Join our Kapong Safari Tour that brings you into Phang Nga Province for action loaded Tubing, water falls, jungle walk in combination with Elephant bathing off the beaten trek in Kapong.
Price in Thai Baht per person: 2,500
White Water Rafting tour into Phang Nga Province north of Phuket Island. An Elephant ride is a popular add on for this tour and can be booked in advance online with Easy Day Phuket.
Price in Thai Baht per person starting from: 1,700
Contact Us Now for Elephant Trekking Phuket
Easy Day Thailand Elephant Tours
Elephant riding tours in other parts of Thailand organised by Easy Day Thailand.